My First Triathlon – Is This How George Plimpton Felt?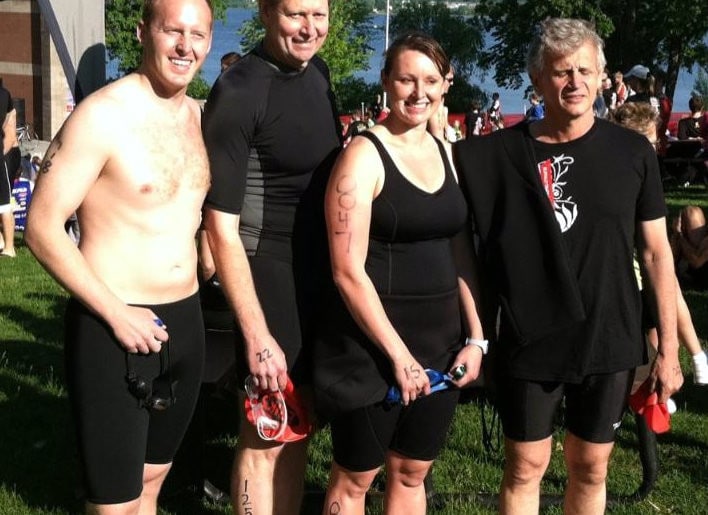 The initial motivation for what has become a significant life adventure for both my wife and me was created in April 2010 at my annual physical exam at age 57. During the physical, my doctor informed me that the trends of my blood sugar and cholesterol were not good. But, he also told me that "this is nothing that losing 20 pounds won't fix".
I knew that I had become a little more full around the middle though this was not enough motivation for me to be serious about consistently exercising and certainly not enough for me to eat salads instead of burgers. However, my doctor's remarks were the incentive that I needed to lose weight – I was sure this would come with exercise.
Then, on September 24, 2010, while discussing the doctor's recommendation on the patio of our house in Chicopee, MA (where I was working half-time during this period) with my son and a Minnesota friend and his son, the idea of signing up for the Buffalo, Minnesota triathlon was first raised. While discussing this idea with my daughter, she told me that this could be a good father-daughter adventure. We made the final commitment and on December 31, 2010, I registered for my first triathlon.
During that same period, my wife registered both of us for membership at LA Fitness. Training began.

Little did I realize how little I knew about getting fit and about triathlon. Little also did I know that I would have so much fun on the journey – this journey that I am still on years later. Becoming healthier has definitely been a difficult process, however, exercise can really make you feel better in yourself. Training for a marathon was a big deal for us. We never would have thought we'd be able to do a marathon. At the start of our training for the marathon, we needed a lot of motivation. So much so, that one of my friends said we could consider booking a motivational speaker to inspire us to pick ourselves up and start working. She said that we could book someone from Sports Speakers 360, for example, to come and inspire us. She told us that it would give us that push that we needed to start training. Skip to now, we've ran the marathon! More people should be inspired to start exercising, it's so beneficial.
Race Day
Fast forward to June 5, 2011 in Buffalo, Minnesota.
Following six months of training in swimming, biking, and running and a practice race two weeks earlier near our home in Maple Grove, Minnesota, my daughter and I were both confident that we could at least finish our first sprint triathlon. While my daughter, who is more 'Type A' than me, was insistent upon setting a time goal for the race, I had been content to set 'finishing the race' as my goal. Eventually, we agreed to the goal of 1:45 hours – this actually seemed reasonable after our earlier practice race.
We left home at 5 am for an hour drive to the race venue. After checking in, picking up our race packets and getting our body markings, we found our respective assigned places in the transition area and began to soak in the happenings around the event. I was struck by the number of expensive looking bicycles.
I drank plenty of water and eventually went into the lake for a short practice swim to become acclimated to the water, which was in the upper 60's F. I had been in the lake on Tuesday of the previous week so knew that the water temp was bearable without a full body wetsuit – although I probably could have gotten away with separate wetsuit bottoms, if I had been worried about the temperature.
Before we knew it, it was race time and I watched as wave after wave of swimmers took off. I had read about the chaos of 50 swimmers starting together – it was not different than I had expected, maybe also because of the practice swim in the previous week. At one point I came upon two females who were treading water by each other – I happened to strike one with my hand and the tongue lashing about how I was to have "watched out where I was going" began. I ignored this knowing that it was not worth wasting any time. I leisurely proceeded from the swim to the transition area where I saw my friend, very seriously proceeding out with his bicycle. In what I later learned was a long transition time (T1 in triathlon language), I washed my feet, put on my socks and shoes, grabbed a few 'gummy bear' type snacks and proceeded with my bicycle to the mounting area.
I realized also that other racers were proceeding to the mount line with a much greater sense of urgency than me – I felt like I was blocking some of them. Anyway, I got on my bicycle to immediately face a relatively steep hill with my bicycle in high gear – oops, another lesson.
The bicycle ride was fantastic. My Giant hybrid bicycle was speeding along the course as it never had on the rides in Maple Grove over the past couple of years. In the end, I rode 13.3 miles at an average speed of 17.7 miles per hours – until now, I was proud if I maintained a 15 mile per hour speed. What struck me was that despite the fact that my legs were often pedaling as fast as they could, others on the triathlon bikes were passing me like I was on a casual stroll with my wife. It was clear that this was due as much to their equipment (their bikes were 'obviously' geared differently than mine) as to their youth and athleticism.
The speed on the bicycle for which I was so proud had apparently taxed my running muscles. Despite the fact that I had trained many times to run after biking, both at the LA Fitness club and around my home, I found the run this time to be incredibly difficult. After about 1 mile, I simply had to stop and walk – how humiliating! (It turned out that this would not be the only time that I had to mix a little walking in the run.)
From this point through the end of the race, including within the last quarter mile, I found it necessary to mix running and walking. At one point, I met my daughter on the run. Her smiling face and 'Go Dad!' was a true encouragement. I also managed to run the section where my wife, son-in-law, and grandchildren were sitting. I actually did a 'high five' to my grandson as I passed. I remember him shouting to his grandmother 'Boy, is he sweaty'. That brought a smile to my face through this difficult run.
Not only did we both finish the race, but we both finished the race in well under the 1:45 hour goal. Astounding.
I returned to earth when I saw the times of others in my age group, including that of my friend. I finished 10th of 16 in the age group – not even in the upper half.
In any event, this had been a great experience, one that led to immediate planning of 'next year'.
Even before the Buffalo Triathlon, my wife had convinced me to register for the Maple Grove, Minnesota triathlon near my home.
Before Maple Grove
Days after the race, my wife and I were talking about the race and 'what if' we combined these with road trips that we had always enjoyed with our children while they were in junior and senior high school and with our youngest son while he swam at Minnesota State Mankato. At some point, we set the goal of me completing a triathlon in each state of the United States by the time I reached 70 years old.
A little background – a fear of my wife's had always been that I, who had been focused on work for many years and did not have a hobby or sport that could be mentioned, would not know what to do with myself in retirement and would 'die' once I retired from working. Here, the triathlon, was finally a hobby, and a healthy one at that. Not to mention that by this time, I had lost nearly 40 pounds since the beginning of the year.
I had also decided that I would like to win a race within my age group. Well, if not win, at least I wanted to place higher. (You will read in another post that setting personal goals is the second highest motivation of senior athletes.)
In thinking about how I could become a more competitive triathlete, I kept thinking of the words of one person (Barry Knight) who had placed second in the 60-69 age group with a time much better than mine. After the awards ceremony and my congratulations, he told me "Thank you. Gear matters". I understood this to mean that he at least partially attributed his award to his triathlon bicycle. Soon after, my research told me that his bicycle had helped him to, first, achieve a good time because of its speed and, secondly, keep some reserve in his legs for the run.
To make a long story shorter, I purchased a Trek Speed Concept 7.5 triathlon bicycle in early July and began training for it to be used at the Maple Grove and at least some of the other 49 triathlons that were upcoming. In addition to learning to ride the bike, I also trained to get into and out of the biking shoes (which were clipped to the pedals) while riding – this is what the pros do. If I was going to be a contender, I was going to take advice from them.
By the way, if you are still wondering about the reference to George Plimpton, click here and skip to the third to the last paragraph. It's true.